[vc_row][vc_column][vc_column_text]
With an estimated population of 164 million people, Bangladesh is one of most densely populated countries in the world. Violence in Burma has forced almost 800,000 people to cross the border into Bangladesh putting more strain on the country's limited resources.
Salam is working tirelessly to lift entire communities out of poverty by providing lifesaving food, healthcare, clean water and a good education.
Bangladesh has seen a massive influx of refugees fleeing extreme violence from Burma, combine that with a poverty rate that is well above the international average and you have a recipe for disaster. Salam is on the ground making a real difference to families who have lost everything to poverty and violence.
Sitting on the delta of several major rivers, Bangladesh has rich, fertile land but that fertility comes at a cost – the geographical location means that Bangladesh is regularly battered by natural disasters and is particularly prone to climate change.
As more and more people arrive in Bangladesh, we need all the help we can get to ensure that people can feel safe and have the necessities of life.
727,000 people crossed into Bangladesh fleeing extreme violence (OCHA,2018)
400,000 children have been forced to leave their homes (UNICEF, 2018)
Over 21 million people do not have access to clean water (CIA World Factbook, 2018)
24 million people live in extreme poverty (below £1.40 per day) (World Bank Data, 2016)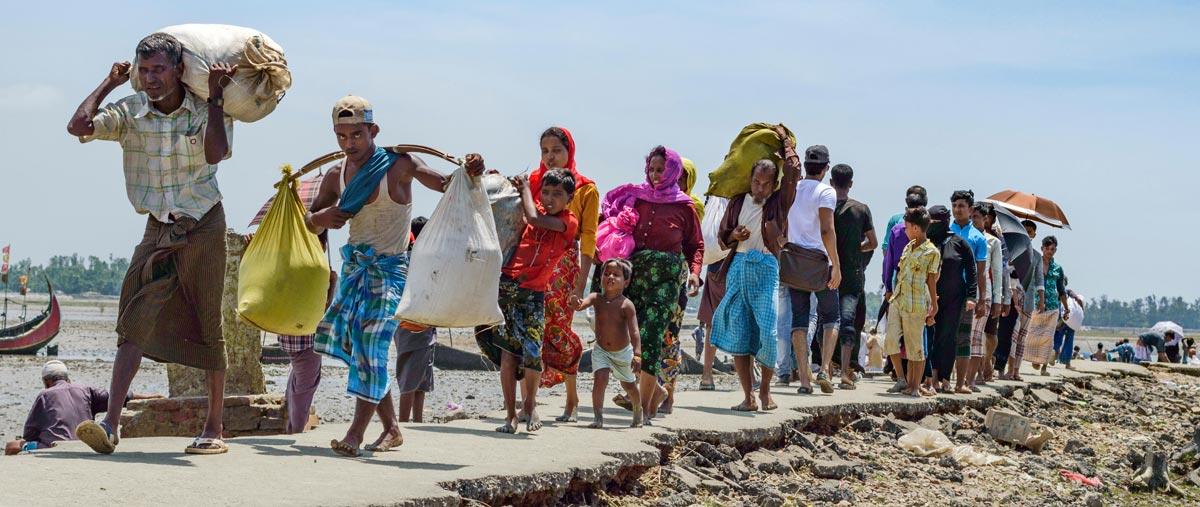 ROHINGYA APPEAL
Cox's Bazaar refugee camp is full to limit but people are still arriving every single day. Fleeing violence and prejudice, people have arrived in the hope that they can keep themselves and their families safe from harm.
At Salam, we believe that we shouldn't shy away from sensitive issues but take them on directly, that's why we are actively helping the thousands of women who have experienced the most unimaginable violence and their children as a result of rape.
We are also providing lifesaving food and clothing to help people overcome the hardships of poverty and give them hope of a brighter future.
Help the Rohingya today
SHIFA CLINIC
Shifa Clinic are currently providing sponsorship and much needed aid to over 400 women and children, and thanks to you we have managed to acquire adjoining land to build a clinic to provide free healthcare to impoverished families in Jakigonj.
A lifeline for communities…
Professionally trained doctors and nurses will be available to offer free expert treatment and advice to anyone in the district, providing a lifeline for thousands of people living in abject poverty. Yet the journey has only just begun. To make sure that we can continue to provide lifesaving healthcare to those living in extreme hardship, an extra £75,000 is needed to complete the clinic.
Providing vital healthcare:
Maternal and neonatal healthcare
Integrated management of childhood illness
Reproductive health and family planning services
Immunisation programme
Free vitamins for children
Children and adult Counselling
Early diagnosis of severe illness
Minor injuries A & E / Treatment for minor ailments
Give the gift of life
MEDINA SQUARE
Laying the foundations…
Thanks to your support and generosity, Salam Charity have been able to secure almost 1 acre of land in one of the poorest areas of Sylhet, and now our ambitious project to lift an entire community out of poverty has truly got under way.
The journey has only begun…
Shifa Clinic is a community led initiative to provide housing, free education and healthcare in one of the poorest areas of Sylhet. At the centre of the village will be a brand-new mosque and Islamic Academy.
To ensure that the local people can lead themselves out of poverty, we will provide affordable housing to hundreds of people living on the poverty line.
There is a long road ahead of us to make our vision into reality, but with your help we can make a serious impact on poverty and uplift whole communities.
The central point of the village will be a brand-new mosque and academy providing free or low cost (means based) education to thousands of poverty stricken children in Sylhet, Bangladesh. The ambitious project will also build a block of flats that will be rented at low cost to people living on the bread line, this creates sustainability for the village and will ensure that the villagers can keep themselves out of hardship.
We have a long way to go…
[/vc_column_text][/vc_column][/vc_row]